The animals might have gone into Noah's Ark two-by-two, but it seems applicants for new gTLDs might be withdrawing their applications three-by-three!According to ICANN's second and latest New gTLD Update for Applicants, six applications have been withdrawn although officially it is not known which ones. And a tentative roadmap has been published that, if it holds, would see the new gTLD online in August 2013.It has been speculated that the first three applications withdrawn were from Google with the withdrawn applications being for .AND, .EST and .ARE, which Domain Incite noted are the ISO 3166-1 alpha-3 codes for the United Arab Emirates, Estonia and Andorra.As for the latest three, one educated guess has been it was .BAR – not a country on the ISO 3166-2:ME ME-02 list but a subdivision -which still requires government support.Clarifying questions for applications that additional is needed for are about to begin being sent out to the lucky 50 applicants whose applications were included in the Clarification Questions Pilot.ICANN has also asked the broader ICANN community for ideas on how best to meter applications into the delegation process for entering approved new gTLDs into the root of the Internet. That comment period ended on 20 August and ICANN will spend the next six weeks reviewing these contributions and, with the community, developing possible solutions.A new tentative roadmap has also been published for the processing of new gTLD applications. ICANN says that if community support emerges for a single Metering solution, the Board might be able to approve an approach after a single round of public comment. Otherwise, an additional round of community consultation might be necessary to develop community consensus.The new roadmap has been developed following the collapse of the digital archery proposal and taking into consideration the constraint on scaling the Root Zone at a rate not exceeding 1,000 new gTLDs per year, an ordering of these applications is required either at the Evaluation phase (called Batching) or at the Pre-delegation phase (called Metering).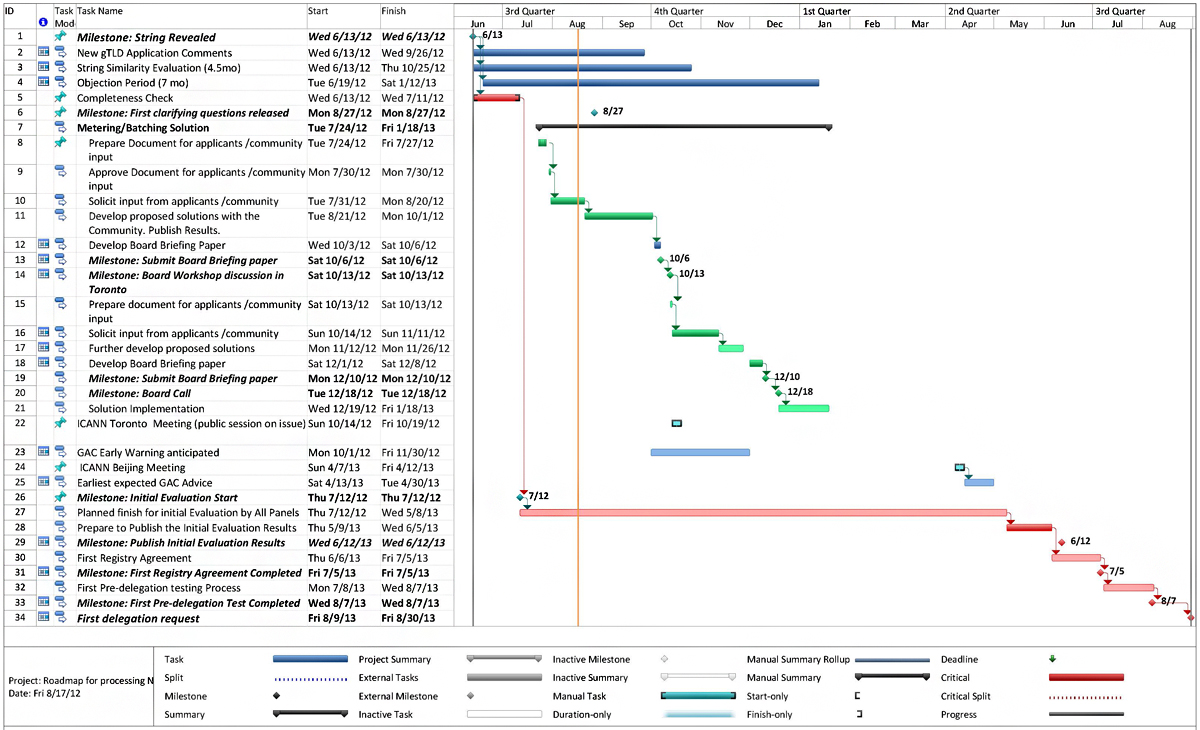 ICANN speculates this process can be completed in 11-12 months, possibly less – resulting in the simultaneous publication of all initial results of the Evaluation phase in June-July 2013.The initial results, ICANN note, are likely to create some form of natural filtering of applications into the Delegation phase, nevertheless ICANN must plan for the possibility that Metering will still be needed.The Development of a Metering solution (tentative):
[numbers in bracket represent the ID numbers on the schedule below]
[10] July 31 – August 20: Solicit input from applicants / community
[11] August 21 – October 1: (Six weeks): Develop proposed solutions with the community. Publish results.
Hold interactive sessions with applicants to collect additional information and answer questions.
[12] October 2-6: Develop Board Briefing Paper: describing applicant and community suggestions, implications for applicants, risks and the degree of agreement on a proposed solution.
[13] October 6: Submit Board Briefing Paper
[14] October 13: Board Workshop discussion in Toronto
[16] October 14 – November 11 (four weeks): applicant/community input, including a public session during ICANN's Toronto meeting.
[17] November 12 – 26 (two weeks): Further develop proposed solutions.
[18] December 1 – 8: Develop Board Briefing Paper describing applicant and community suggestions, implications for applicants, risks and the degree of agreement on a proposed solution.
[19] December 10: Submit Board Briefing Paper
[20] December 18: Board Call
[21] December 19, 2012 – January 18, 2013: Solution implementation.
Other significant dates (tentative):
[2] September 26, 2012: End of New gTLD application comments
[6] August 27, 2012: First clarifying questions released
[22] October 14-19, 2012: ICANN Toronto meeting (public session on issue)
[23] October – November 2012: GAC early warnings anticipated
[24] April 7-12, 2013: ICANN Beijing meeting
[25] April 2013: Earliest expected GAC Advice (follows Beijing meeting)
[27] May 2013: Planned finish for initial Evaluation by all panels
[29] June 2013: Publication of Initial Evaluation results
[34] August 2013: First delegation request
More information is available on the ICANN website on their New gTLD Update for Applicants and the Roadmap for Processing New gTLD Applications.